There have been phases in my adult life when people squeeze my shoulder and say, "you must be training hard". The problem is that it usually coincides with times when I have been doing little more than training myself to eat a mix of cheese and ham served up on various white flour products. Chunky? Yes. Fit? No.
When you are paralysed you are told to reduce your calorie intake to 1500 calories a day, which is really low. Really hard to maintain. And last year, during our 3-month research study in Los Angeles, I could have gone either of two ways. The omnipresence of pizzas, burgers and Mexican food was such that I feared the shoulder squeeze treatment at the end of the trip.
But we also had access to really healthy, tasty food where we were living. In Culver City I ate almost daily in Tender Greens where I had grilled tuna with a salad of Kale, parmesan, roasted garlic vinaigrette and garlic herb crostini. When we weren't there or at home, we ate across the road at LYFE Kitchen where every dish was less than 600 calories. My personal favorite was chicken, mushroom and spinach penne made with whole-grain pasta, green onions, lemon zest, parmesan and cashew cream sauce. This was only 570 calories and the portion size wasn't really compromised due to the ingredient choices. Check out the cashew nut cream rather than dairy cream!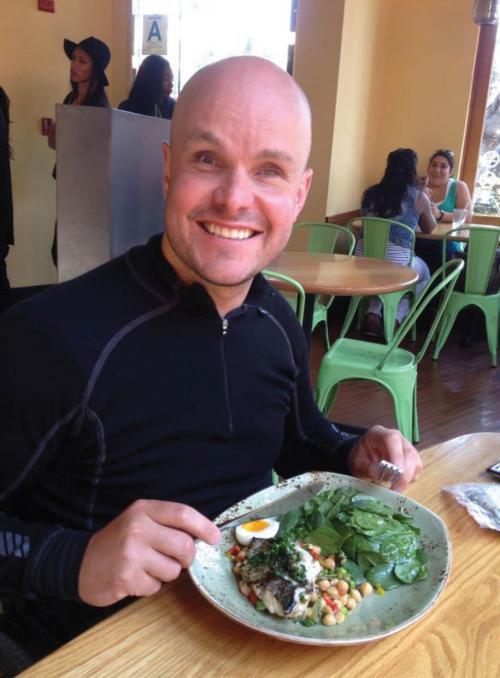 And, when it was easy to get fast, healthy and tasty food, I chose it. By the end of the trip I had lost just over a stone in body weight (8 kgs).
But back in Ireland between May and December I went back to my old routine. Too many paninis and pizza. Too many bad choices and a worrying number of "you must be training hard" comments.
But on the 22nd of December, as our documentary film Unbreakable screened I got an email from James Statham. James runs a company called Paleo Meal Deliveries and he offered to work with me. His company delivers chef prepped meals to people each week. The microwavable meals are homemade, nutritionally dense and are low carb, gluten and dairy free. He offered to sponsor me, delivering a 3-day meal plan including breakfast, lunch and dinner each week to my door. In return he asked for nothing. After a month I have noticed that nobody has squeezed my shoulder and accused me of training. But they have commented that I've lost weight.
I think it is all down to access to good food. In the main I am eating well and the right amounts now that leaves me calorie room on a weekly basis to eat out the odd time or to have the odd treat. If I feel hungry in between, Simone has packed the freezer with LYFE Kitchen smoothie recipe bags that we can blend in our new Nutri-Bullet. It's raw kale, fresh ginger, banana, cucumber, apple juice and lemon juice. So, we'll see if my kale smoothies and 9 Paleo Meals out of 21 eating options will keep me motivated to make good choices for the rest of the month.